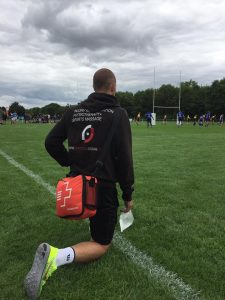 We believe in what we do so much that we will even travel to show you or work with your events providers to make a difference to your challenges and new goals. 
Our event therapy means we can come to your event and do whatever is needed; injury assessment, taping and strapping, vocal advice, sports massage…
We are fully-equipped to go on location and that could be anything from sporting events to corporate events such as: golf days, activity days, challenge days, rafting, group activities, festivals or tournaments.
We will travel with groups or charities and can stay with a client throughout an event if necessary, or we can be on site with an events team providing our services. The team are open to both local and international events with paid and voluntary possibilities.
Function Jigsaw currently have a successful contract with Action Challenge where we provide sports massage services around the clock for all the ultra challenges hosted in the United Kingdom; South Coast Challenge, Thames Path Challenge, Isle of While Challenge, and more. The feedback from both the events co-ordinators and the participants is that 'they couldn't do it without you'. Function Jigsaw love to work with the participants who are more than thankful for the services provided in helping them complete the events. It gives the events team a brilliant opportunity to experience working with willing athletes who are determined to reach their end target. 
TV crews and actors have also benefitted from the Function Jigsaw events team. We have treated TV's Nick Knowles (DIY SOS), Casualty's Amanda Mealing and have helped with the fitness of actor Tom Hopper before he went to film drama Black Sails in South Africa.